Philipp Goldbach
Philipp Goldbach (*1978) studied Media Arts with a focus on Photography at the Academy of Media Arts Cologne.Concurrently he studied Art History, Philosophy und Sociology at the University of Cologne, where he received his doctorate in 2016. Goldbach has taught as Assistant Professor for Photography at the Academy of Media Arts Cologne (2008-2009) and as Docent for Film and Photographic Studies at the Leiden University Centre for the Arts in Society (LUCAS) of Leiden University (2017-2019). He was a member of the curatorial team at Simultanhalle Cologne and is part of the artist group darktaxa-project. Amongst others Goldbach was awarded the Vordemberge Gildewart scholarship (2009) and the Ars Viva Prize for Fine Arts (2011/12). He has exhibited internationally at numerous institutions including the: CCCB Barcelona, EPFL ArtLab Lausanne, FOTO|RAUM Vienna, Riga Art Space, ZKM | Zentrum für Kunst und Medien Karlsruhe, Museum Wiesbaden, Museum Folkwang Essen, Wilhelm-Hack-Museum Ludwigshafen, Kunsthalle Düsseldorf, Museum Weserburg Bremen, Kunsthalle Bremerhaven, Haus der Photographie-Deichtorhallen Hamburg. Works are held in the collections of Museum Wiesbaden, Mudam Luxembourg, Centre Pompidou, DZ BANK Kunststiftung, Museum Folkwang. Philipp Goldbach  lives and works in Cologne, Germany.
Link: pgoldbach.de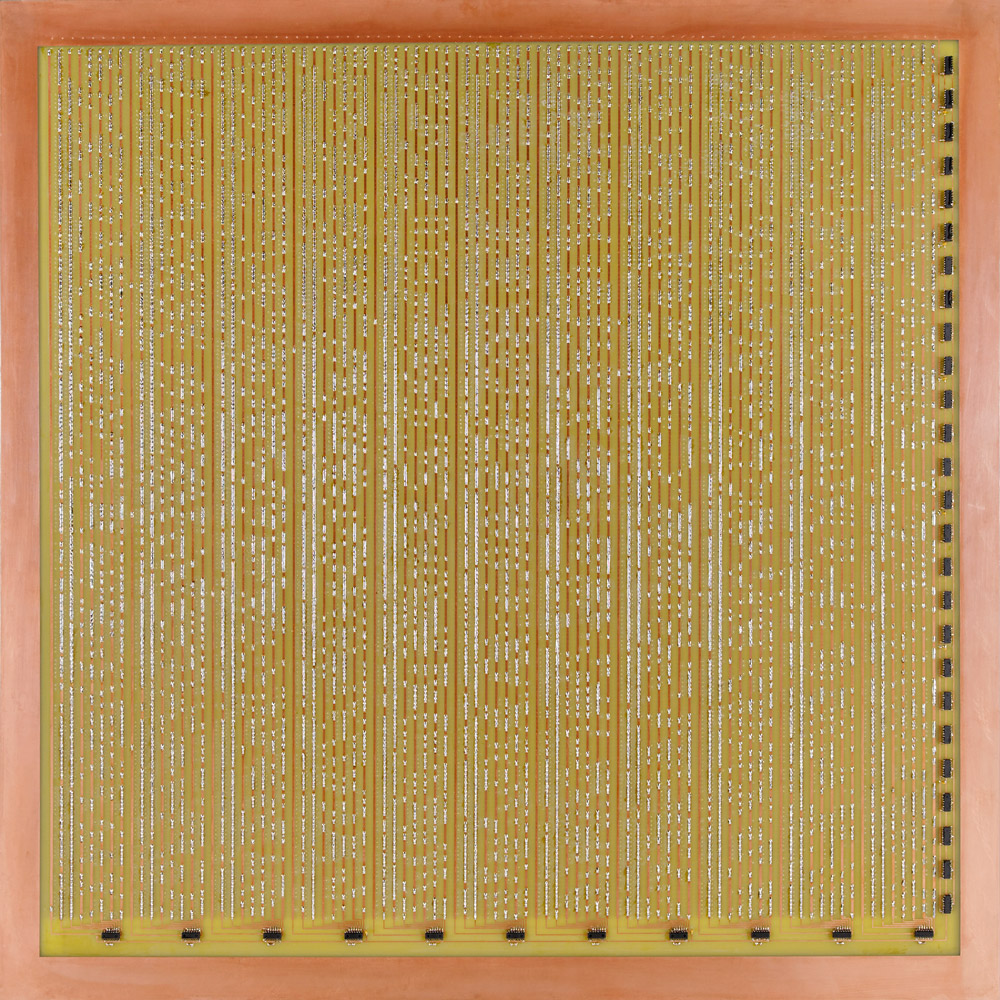 Philipp Goldbach: Read Only Memory, A Philosophical Language (J. Wilkins), doppelseitig kupferkaschiertes Epoxidharz-Glashartgewebe, elektrische Bauteile, Lötblei / Double-sided, copper-coated, epoxy resin glass fabric laminate, electrical components, lead solder, 106,5 x 106,5 cm, 2016
Die Arbeit Read Only Memory (ROM) ist ein selbst konstruierter und von Philipp Goldbach eigenhändig, handwerklich hergestellter digitaler Speicher in Form einer ca. 1qm großen Speicherplatine. Aus der kupferbeschichteten Grundplatte hat Goldbach ein Leiterbahnen-Gitter herausgeätzt, dieses durchbohrt und mit jeweils 8.000 bis 9.000 beidseitig verlöteten Dioden besetzt. Goldbach hat so kanonische Texte des 17.Jh., die Ideen zu einer Universalsprache thematisieren, codiert und Bit für Bit in 0 und 1-Schaltzustände übertragen. Der durch diesen Vorgang auf der Speicherplatine eingeschriebene Inhalt ist dabei dauerhaft fixiert und kann nicht gelöscht oder überschrieben werden. Goldbach versteht seine Arbeit ROM als "retrospektiven Prototyp", als fiktiven Vorläufer heutiger Computertechnik. Er sagt: "die Arbeit ROM thematisiert einerseits die Grundlage dessen, was ein digitales Bild ist. Der digitale Code wird in seiner elementarsten Form physisch im Material realisiert, und als Schaltung von positiven und negativen Spannungszuständen in einer Diodenmatrix, umgesetzt. Also etwas, das in jeder Kamera, in jedem Speicherchip in weitaus komplexerer, miniaturisierter Form drinsteckt." Außerdem stellt er einen indirekten Bezug der "lingua universalis"-Texte des 17.Jh. zum Medium Fotografie her, das "seit seiner 'Erfindung' immer wieder in den Kontext einer solchen Universalsprache gestellt wurde, also einer Sprache von globaler Reichweite und universeller Verständlichkeit, was sich bis in den Digitalisierungsdiskurs fortsetzt".
Text: Michael Reisch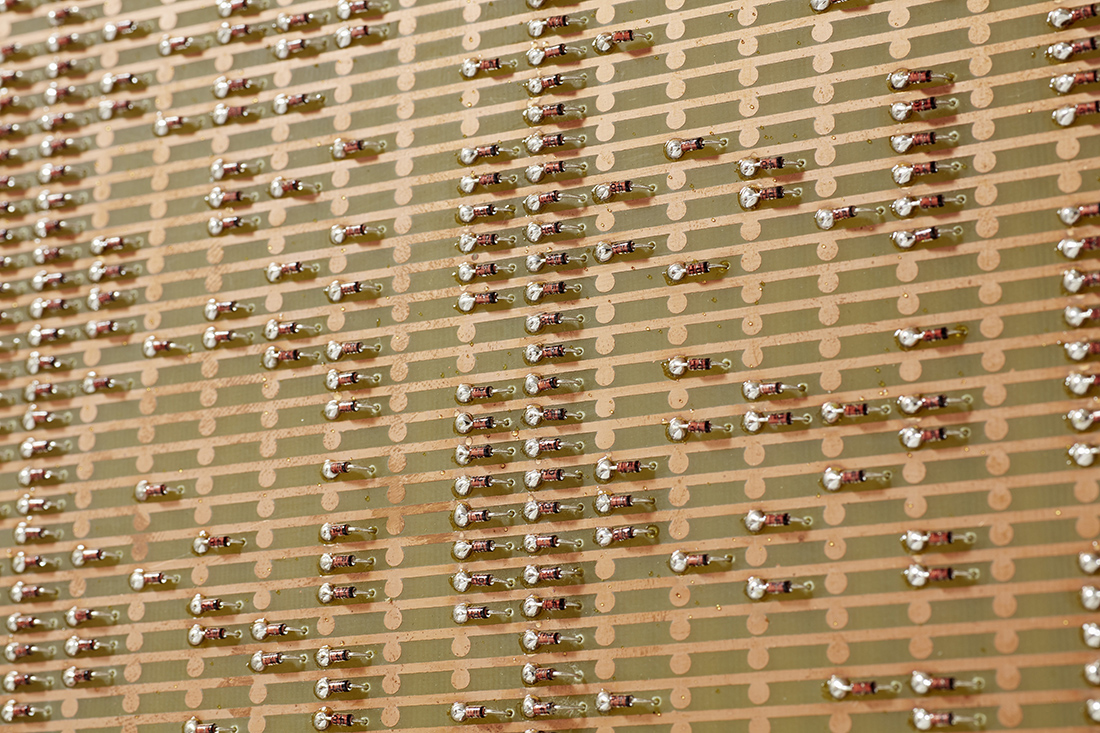 Philipp Goldbach: Read Only Memory, Details der Vorder- und Rückseite / details front and reverse side: A Philosophical Language (J. Wilkins), doppelseitig kupferkaschiertes Epoxidharz-Glashartgewebe, elektrische Bauteile, Lötblei / Double-sided, copper-coated, epoxy resin glass fabric laminate, electrical components, lead solder, 106,5 x 106,5 cm, 2016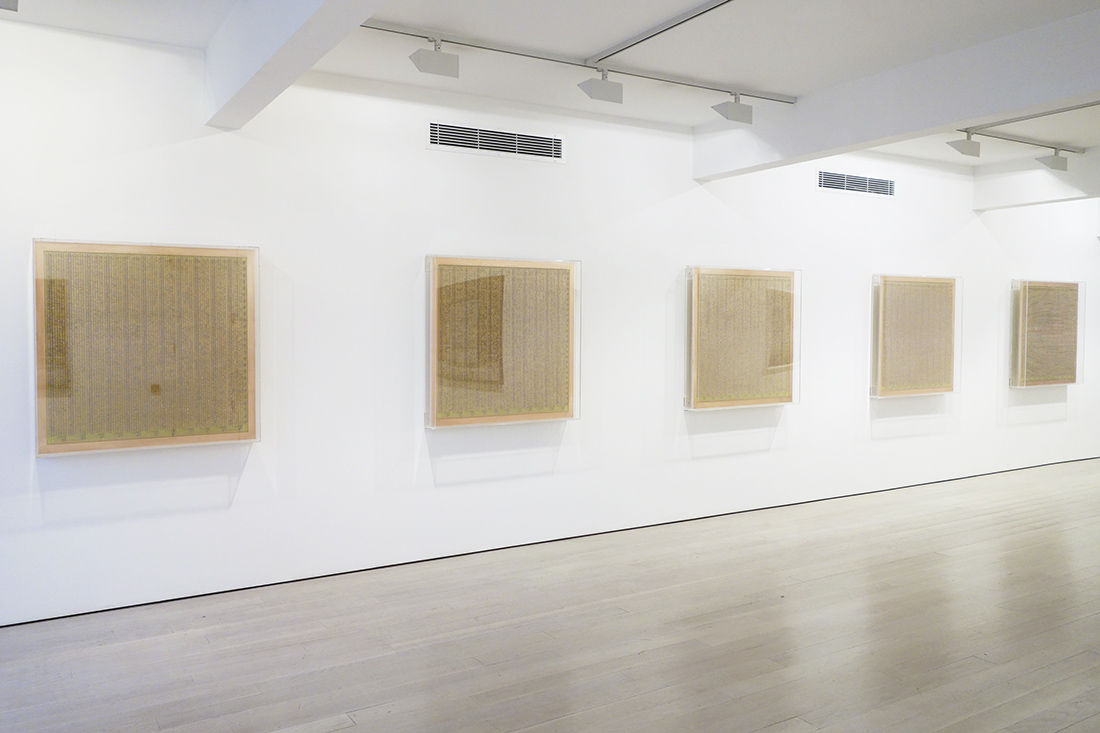 Philipp Goldbach: Read Only Memory, Annely Juda Fine Art, London, 2016. Von links nach rechts / From left to right: A Philosophical Language (J. Wilkins) / The Advancement of Learning (F. Bacon) / De Umbris Idearum (G. Bruno) / Lettre à Marin Mersenne (R. Descartes) / Dissertatio de Arte combinatoria (G. W. Leibniz), Via Lucis (J. A. Comenius), doppelseitig kupferkaschiertes Epoxidharz-Glashartgewebe, elektrische Bauteile, Lötblei / Double-sided, copper-coated, epoxy resin glass fabric laminate, electrical components, lead solder, 106,5 x 106,5 cm, 2016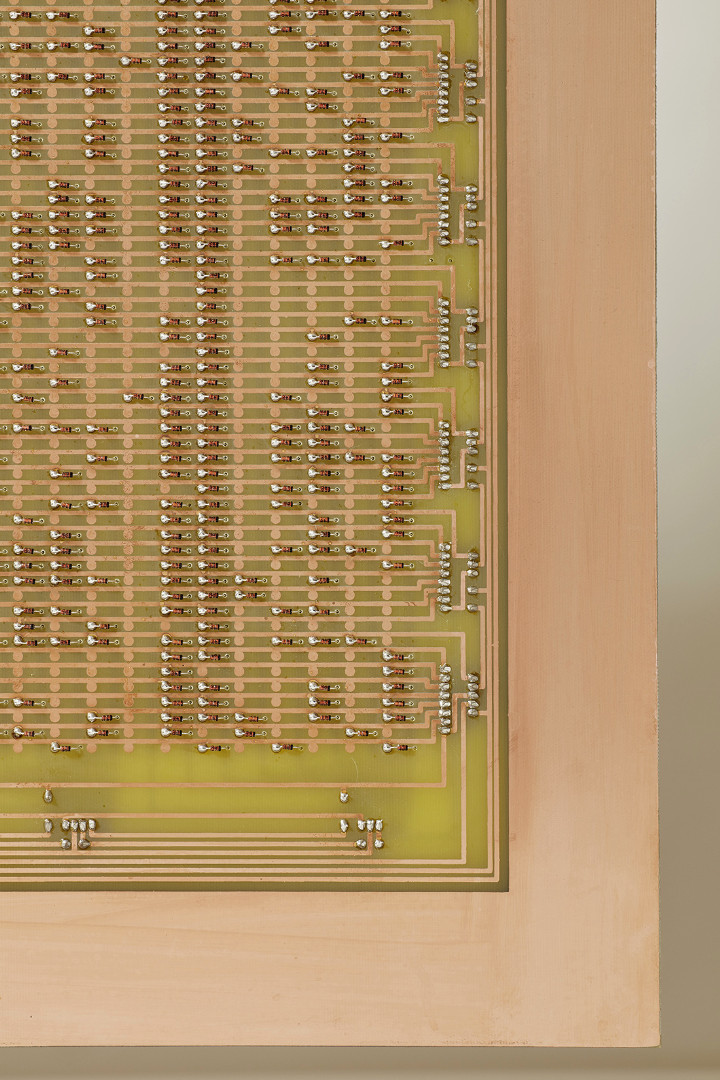 Philipp Goldbach: Read Only Memory, Details der Vorder- und Rückseite / details front and reverse side: A Philosophical Language (J. Wilkins), doppelseitig kupferkaschiertes Epoxidharz-Glashartgewebe, elektrische Bauteile, Lötblei / Double-sided, copper-coated, epoxy resin glass fabric laminate, electrical components, lead solder, 106,5 x 106,5 cm, 2016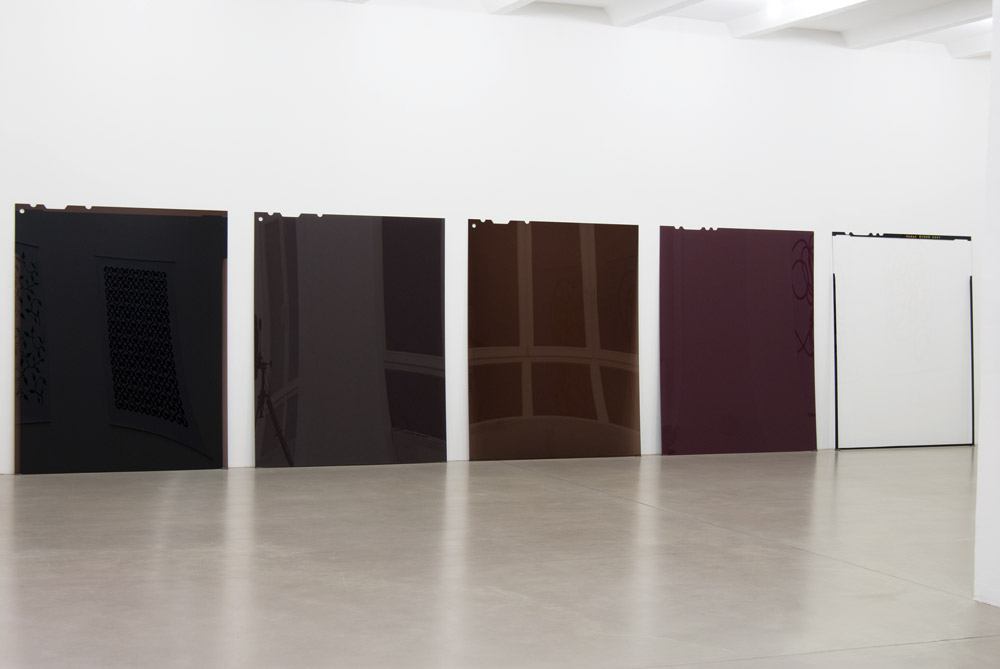 Philipp Goldbach: Sheet Films, M29 Köln / Cologne, 2015. Fujifilm NPS / Kodak E100G, Lack auf Plexiglas, je 192,5 x 152 cm, 2012-15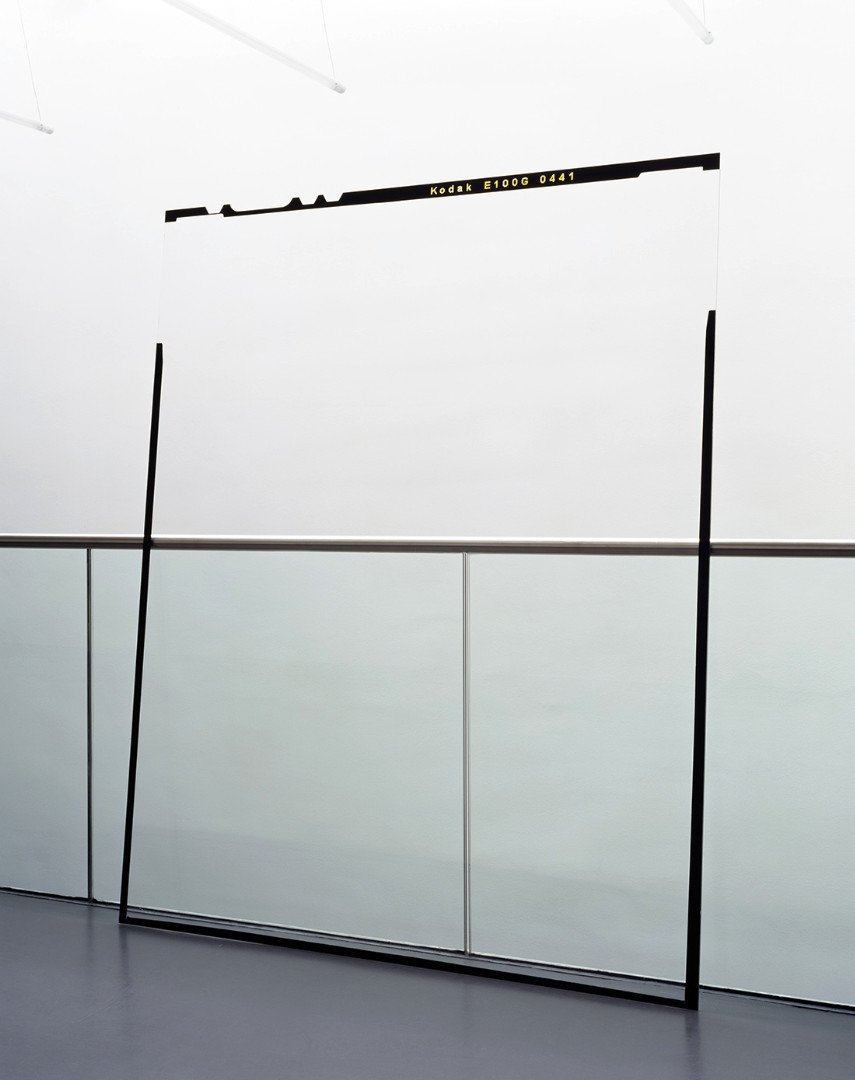 Philipp Goldbach: Kodak E100G (überbelichtet, entwickelt / over-exposend, developed), Lack auf Plexiglas / enamel on plexiglass, 192,5 x 152 cm, 2012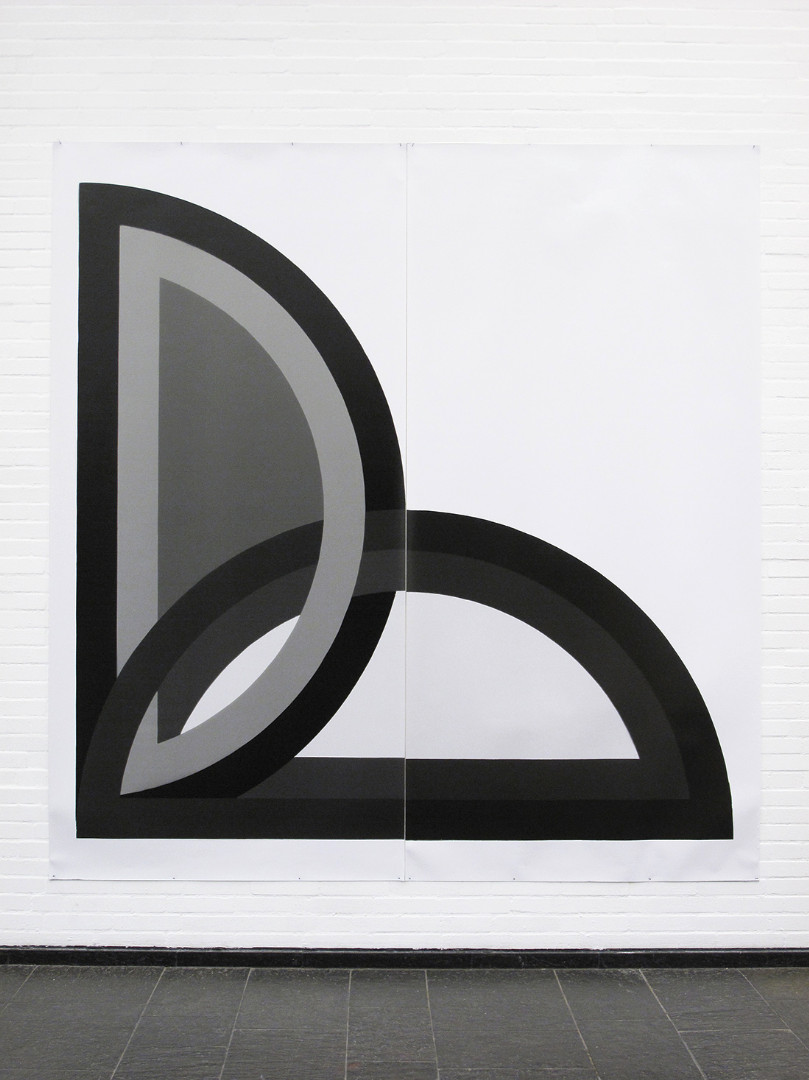 Philipp Goldbach: Sabra I (F. Stella), Fotogramm, zweiteiliger Silbergelatineabzug / photogram, silver gelatine print (in two parts), 254 x 254 cm, 2012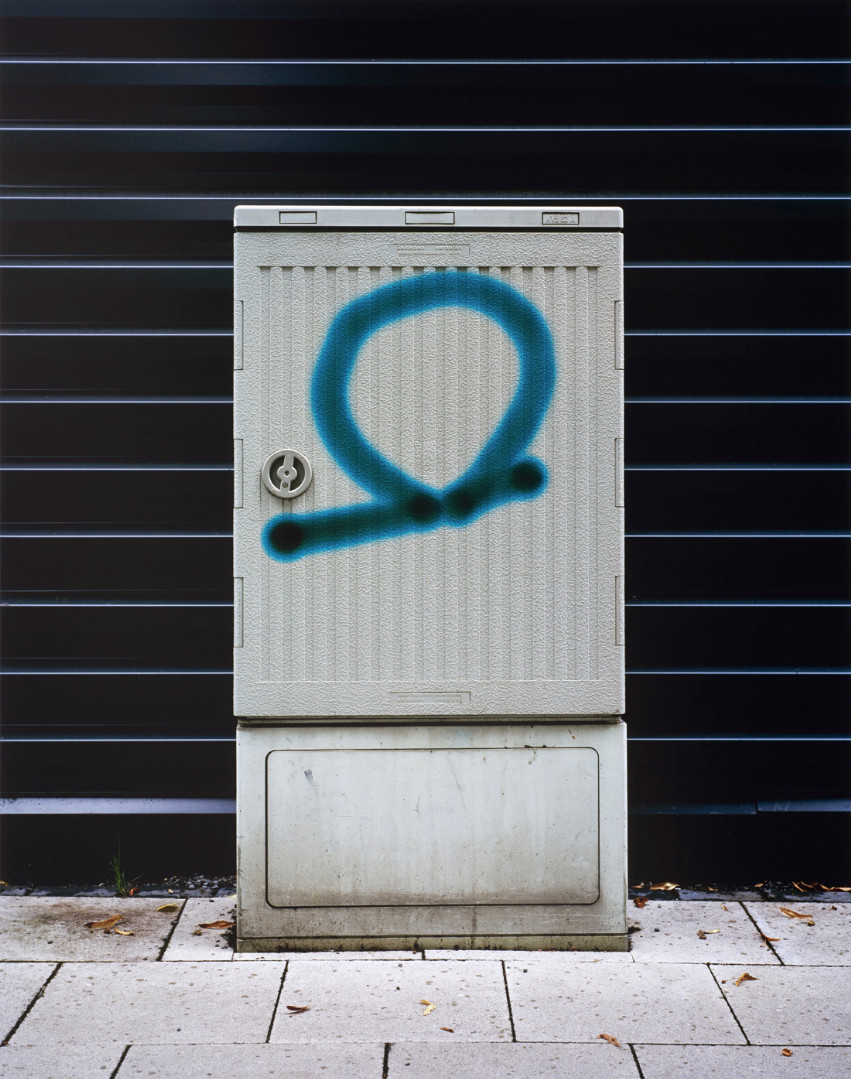 KVz 82 A (Cyan), Luminogramm auf chromogenem Farbabzug / colour luminogram on C-Print, 110,5 x 87 cm, 2016