Arno Beck
Arno Beck (*1985) studied Fine Art/Painting
(in the master class of Eberhard Havekost) at Kunstakademie Düsseldorf, currently living and working in Bonn as he holds the Studio Grant at Bonner Kunstverein. His works have been exhibited widely at, amongst others, Kunsthalle Düsseldorf, Museum Sinclair-Haus Bad Homburg, Galerie König Berlin,
Nino Mier Gallery, L.A., Cidade das Artes Rio de Janeiro, and solo shows at DAM Projects Berlin, Joshua Liner Gallery New York, Galerie Falko Alexander Cologne and Schierke Seinecke Galerie Frankfurt. Arno Beck's conceptual paintings and drawings evolve around digital aesthetics and focus on analog production of digital images. Engaging with the language of digital culture the motifs are based on low resolution computer graphics, games and interfaces. It is an interplay between the contemporary digital screen world and traditional techniques. Arno Beck lives and works in Witterschlick/Bonn, Germany.
Link: www.arnobeck.de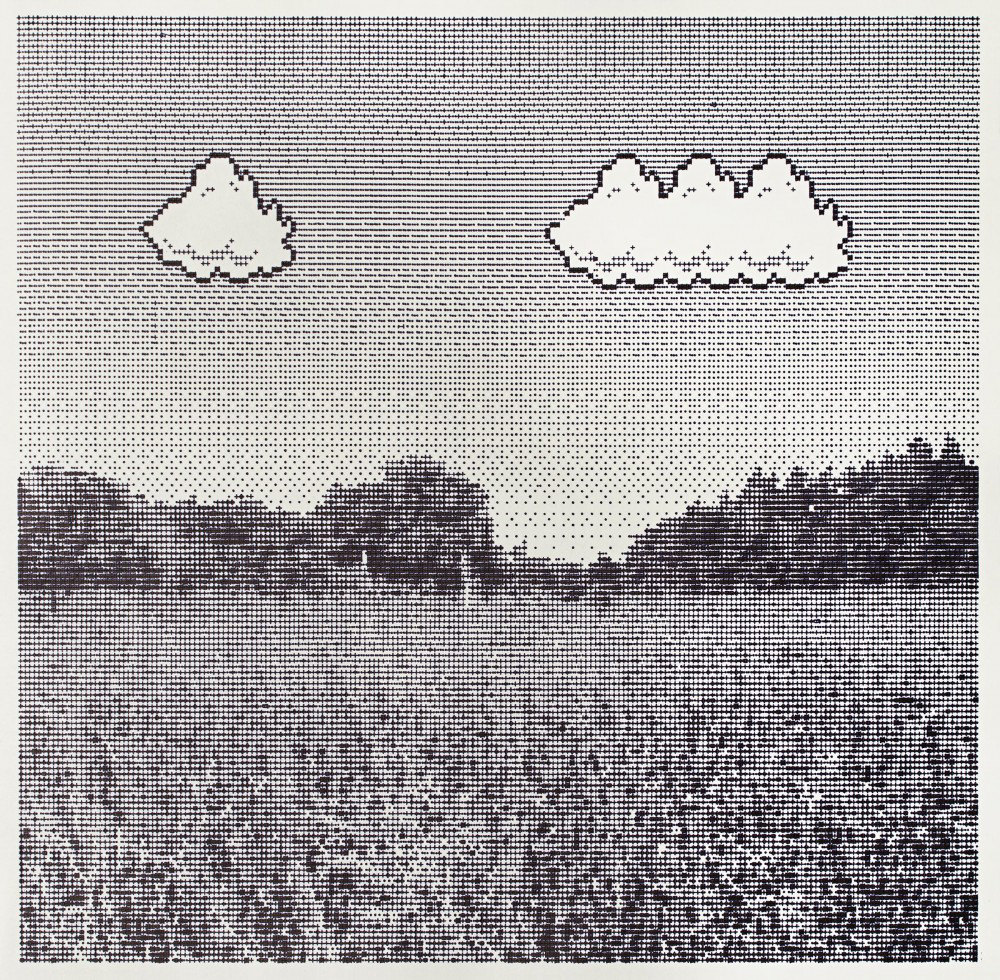 Arno Beck: Untitled, typewriter-drawing on japanese paper, 45x45 cm
Arno Beck erstellt seine Bilder mit einer Schreibmaschine. Er kombiniert vorgefundene Fotos (von z.B. Landschaften) mit grob gepixelten, grafischen Motiven aus älteren Computerspielen zu eigenen Kompositionen. Hierzu hat er ein System entwickelt, bei dem durch die Überlagerung von verschiedenen Buchstaben unterschiedliche Grauwerte erzeugt werden, das endgültige Bild wird dann in einem zeitaufwendigen Prozess zeilenweise von Hand "getippt".
Obwohl es sich bei den so entstehenden Werken um technische Bilder handelt, werden weder die Fotografie, noch andere aktuelle digitale Werkzeuge und Verfahren direkt eingesetzt, diese werden vielmehr in einer Art Low-Tech-Haltung und durch Retro-Tech-Zitate thematisiert. Die digitale Rechenarbeit des Computers wird durch Becks körperliche Arbeit gespiegelt, das stoische Kopieren und "Abtippen" jedes einzelnen "Pixels" der fotografisch erstellten Bildvorlage gleicht die digital-maschinelle Zeit der Fotokamera und des Computers mit menschlichen Maßstäben ab.
Text: Michael Reisch