Anna Ridler
Anna Ridler (*1985) is an artist and researcher who works with systems of knowledge and how technologies are created in order to better understand the world. She is particularly interested in ideas around measurement and quantification and how this relates to the natural world. Her process often involves working with collections of information or data, particularly datasets, to create new and unusual narratives Her work has been exhibited at cultural institutions worldwide including the Victoria and Albert Museum, the Barbican Centre, Centre Pompidou, HeK Basel, the ZKM Karlsruhe, Ars Electronica, and Sheffield Documentary Festival. She was a European Union EMAP fellow and the winner of the 2018-2019 DARE Art Prize. Ridler was listed as one of the nine "pioneering artists" exploring AI's creative potential by Artnet and received an honorary mention in the 2019 Ars Electronica Golden Nica award for the category AI & Life Art. She was nominated for a "Beazley Designs of the Year" award in 2019 by the Design Museum for her work on datasets and categorisation. Anna Ridler lives and works in London, UK.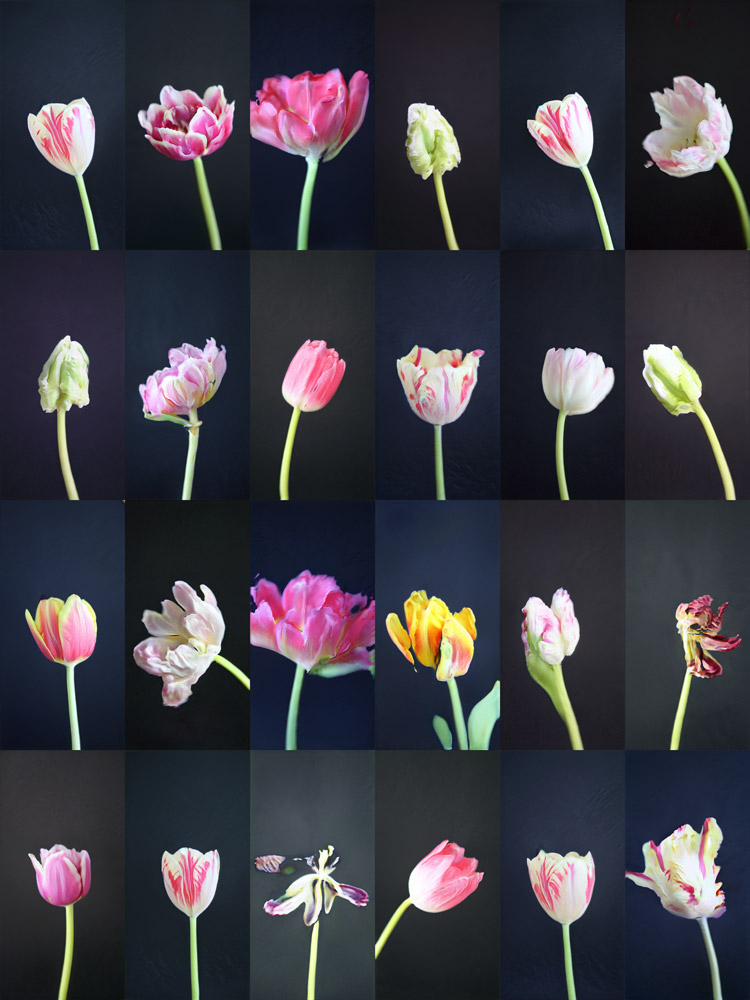 Anna Ridler: Mosaic Virus 2019, single screen installation
Anna Ridlers Videoarbeit "mosaic virus" von 2018 ist mithilfe von künstlicher Intelligenz erstellt und läuft als Bewegtbild auf einem Screen. Ihre Arbeit basiert auf mehreren Tausend selbst fotografierten Fotos von Tulpen, die Ridler als Trainingsbilder für eine KI, ein GAN (Generative Adversarial Network) einsetzt. Das GAN erzeugt anhand der Input-Bilder selbst generierte, neue Tulpenbilder, die auf dem Screen in ständiger Bewegung und Veränderung begriffen sind. Die erblühenden Tulpen verändern in Echtzeit ihre Gestalt anhand des sich ständig ändernden Werts des Bitcoin. Ridler stellt dabei eine inhaltliche Parallele der historischen Tulpen-Manie" des 17.Jh. zu den gegenwärtigen Spekulationen um Krypto-Währungen her. "Mosaic" ist der Name eines Virus, der besonders begehrenswerte Streifen auf den Tulpen der 1630er Jahre hervorgerufen hat, bei Ridler korrespondiert die sich ändernde Breite und Form der Streifen mit dem Auf und Ab des Bitcoin. Ridlers Bewegtbilder zeigen sowohl "maschinische" Tulpeninterpretationen der KI, als auch die abstrakten Bewegungen des Bitcoin-Börse, für die die KI-generierten Tulpen und deren Bewegungen als eine Art von gegenständlichem Diagramm dienen.
Text: Michael Reisch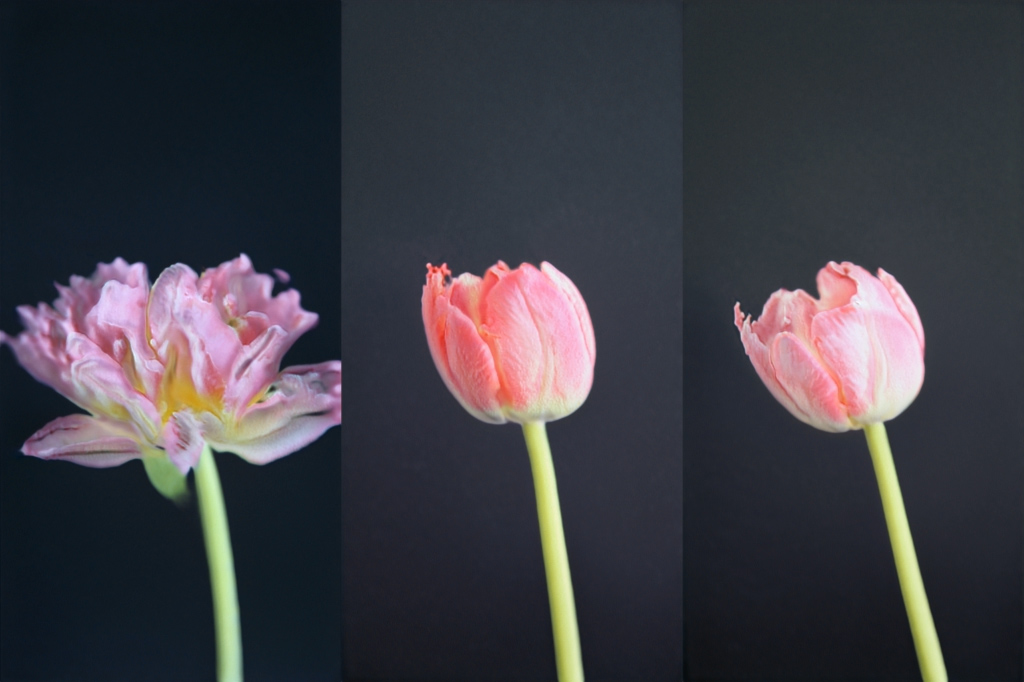 Anna Ridler: Mosaic Virus 2019, 3 screen installation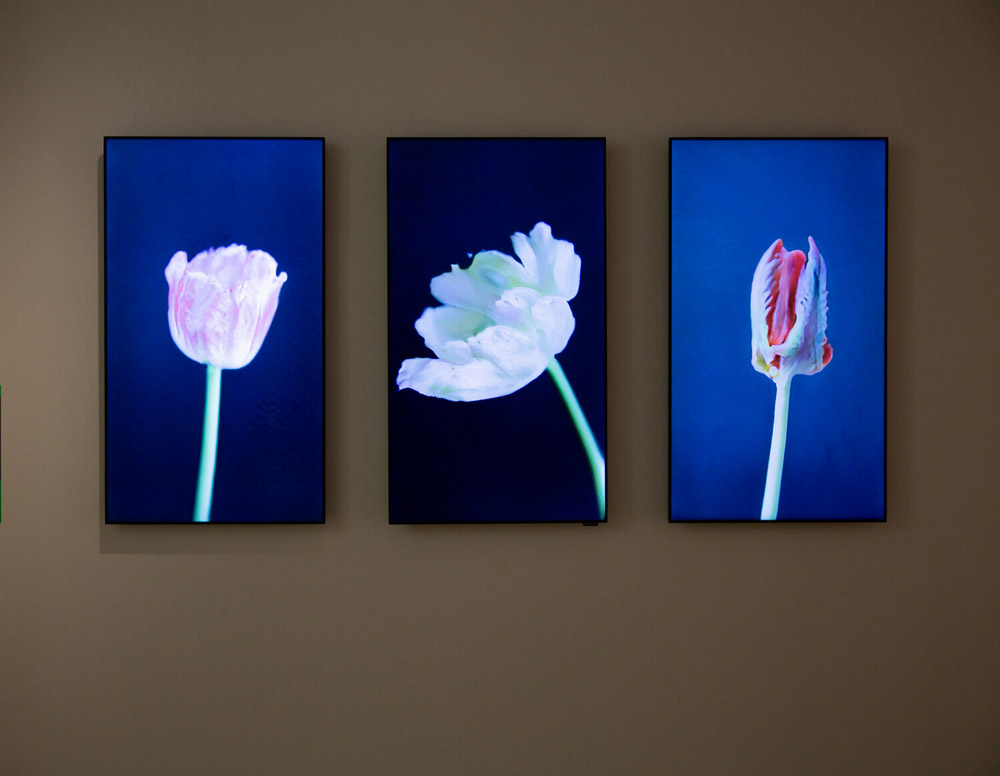 Anna Ridler: Mosaic Virus 2019, 3 screen installation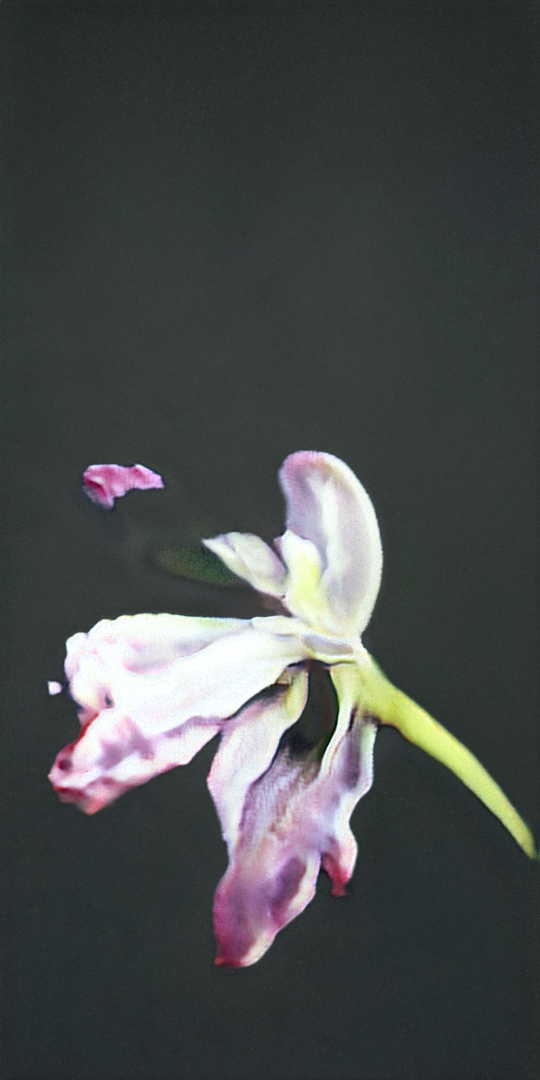 Anna Ridler: Mosaic Virus 2019, single screen installation, detail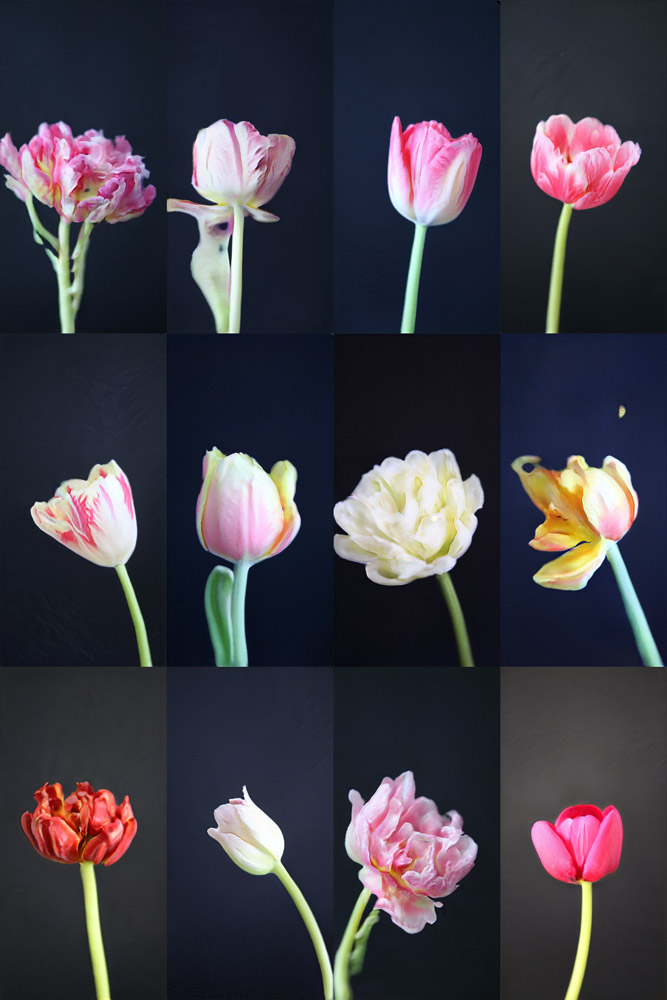 Anna Ridler: Mosaic Virus 2019, single screen installation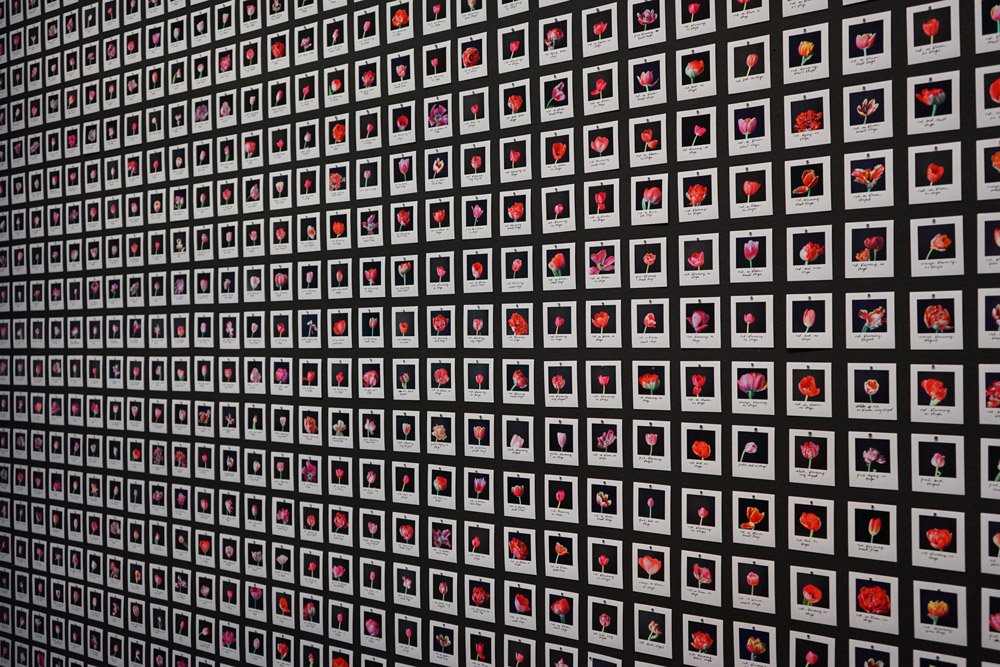 Anna Ridler: Myriad (Tulips) 2018 (data-trainigssets for GAN/AI)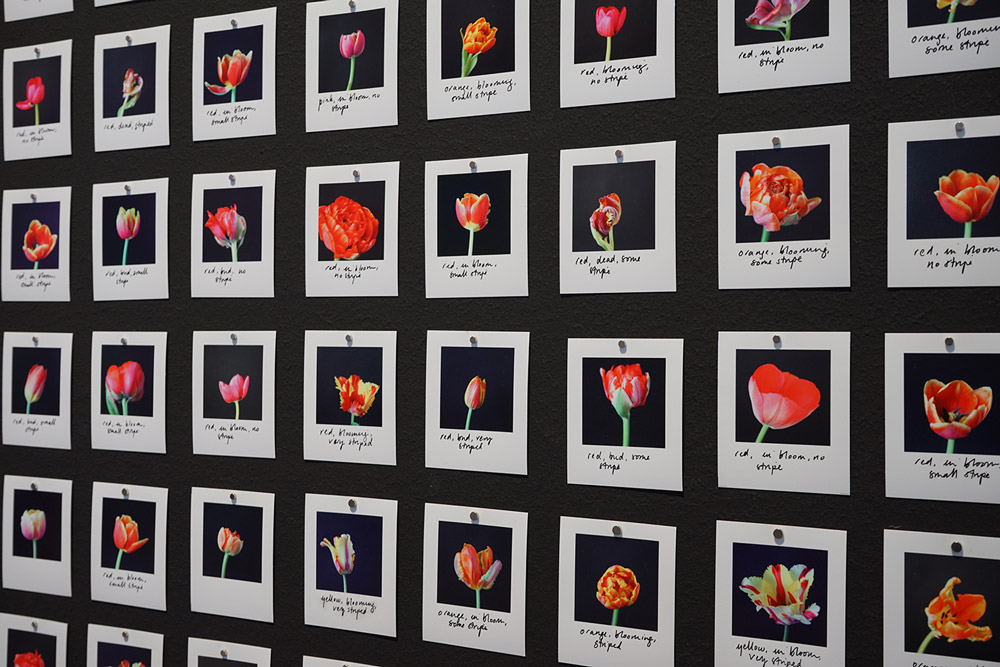 Anna Ridler: Myriad (Tulips) 2018 (data-trainigssets for GAN/AI)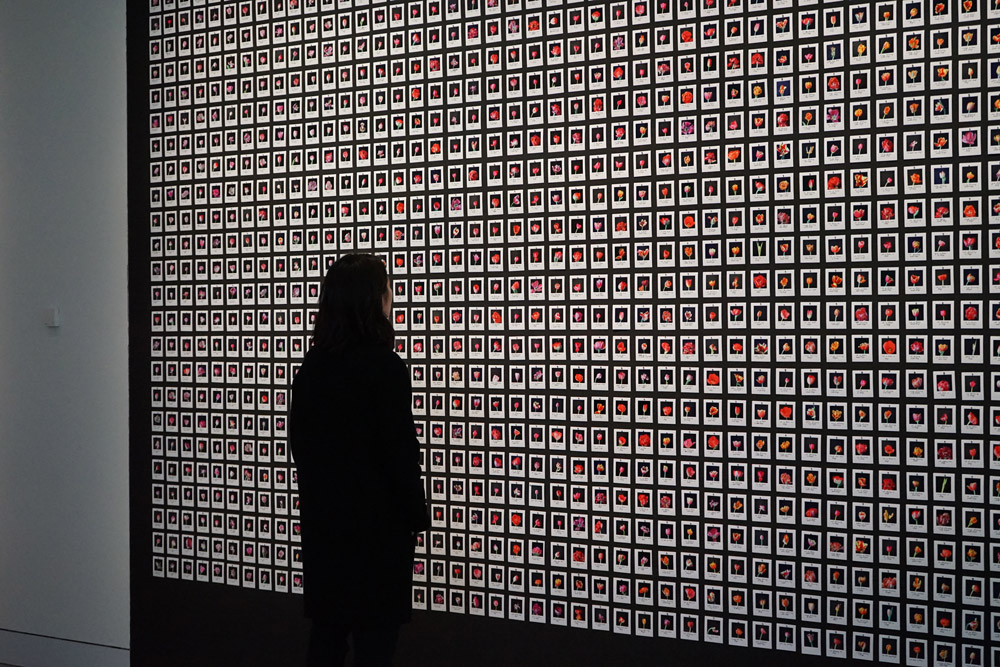 Anna Ridler: Myriad (Tulips) 2018 (data-trainigssets for GAN/AI)
Photos: Emily Grundon